WHITE Milano is the reference tradeshow for international womenswear in the heart of the Tortona Fashion District, under the patronage of the Municipality of Milan, and since its inception in 2002 it takes place during the Milan Fashion Week. WHITE is an omnichannel platform dedicated to the fashion industry players, capable of heading towards the contemporary international market's taste with the support of MAECI – Ministry for Foreign Affairs and International Cooperation, of ITA – Italian Trade Agency, in partnership with Confartigianato Imprese. A leader in the digital landscape and in cosmopolitan networking, capable of constantly strengthening its authority in connecting research brands to contemporary fashion and business sceneries, WHITE brings to the fashion capital around 800 clothing and accessories collections each year, on a total area of 20 thousand square metres.
Its forward-thinking vision, aiming at expanding and knocking down the barriers and fostering a better flowing communication between the market and the creative entities from across the globe, is shared by Expowhite, the format under the aegis of the Italian Ministry of Culture. Unique of its kind, WHITE presents itself as a container of innovative projects, capable of offering a curated selection of sustainable brands defined by an avant-garde stylistic code, established maisons, experimental designers and new-generation startups. A crossover of art, design, culture and technology, focused on the targeted exploration of new fashion languages and innovative installations conceived by WHITE's founder Massimiliano Bizzi, with a visual layout up-to-date with cutting edge aesthetic canons.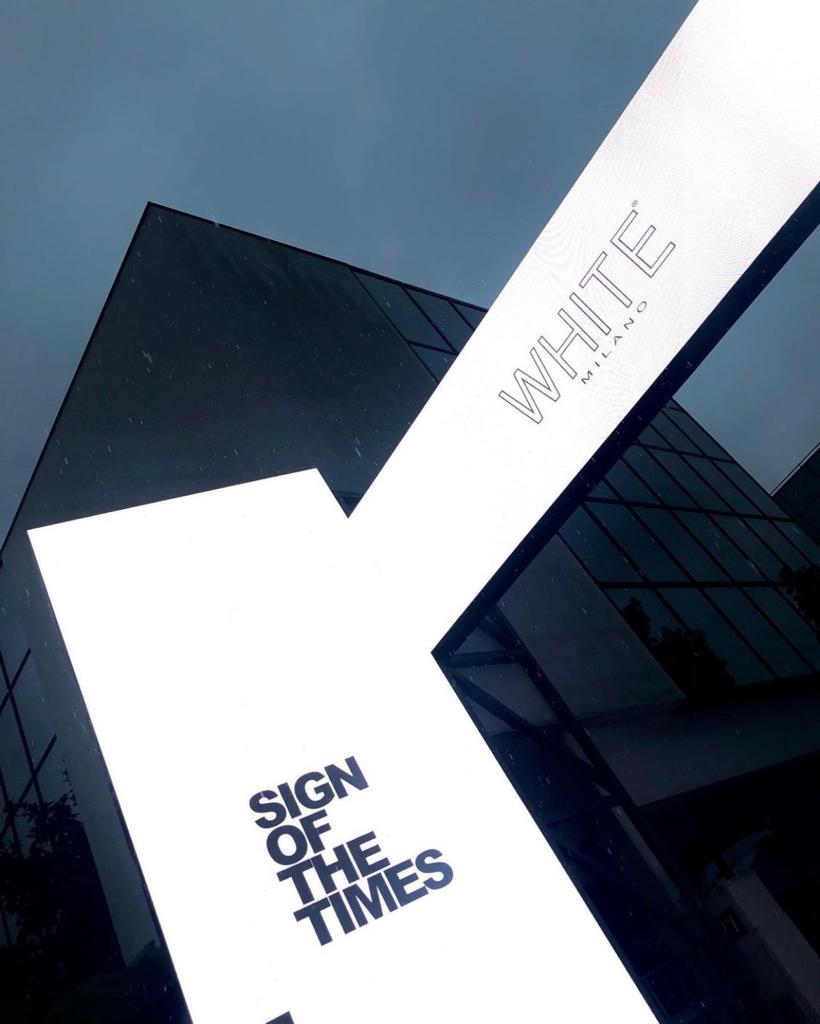 A trailblazing approach to the theme of sustainability is what characterizes WHITE from the beginning, when in the year 2000 – first year of activity of the concept trade show – it chose to employ environmentally friendly and zero waste setups, minimizing handling, which is the first source of global pollution, thanks to a km0 logistic system. This approach is the cornerstone behind WHITE DESIGN, the mission which sheds light on the topic of recycling, to clothe the salons with fabrics, recycled materials and natural dyes. WHITE's commitment to the promotion of an all-around, ethical fashion system invests substantial resources with the aim of ensuring a controlled use of materials, up to a curated selection of 100% sustainable brands. The culmination of this vision
is WSM – White Sustainable Milano, an internationally recognized event that fits into WHITE's integrated communication project in order to raise awareness, educate and inform with regard to themes such as sustainability, ecological transition and technology which the industry is facing and must face.
19-69 // (D)IVISION // ACNE STUDIOS // ADIDAS // AF VANDERVOST // AHLUWALIA // ANCUTA SARCA // ANN DEMEULEMEESTER // ANTONIO MARRAS // BORSALINO // BOTTER // CARLOTA BARRERA // CHET LO // COMEFORBREAKFAST // COMPLETED WORKS // DI LIBORIO // DURAN LANTINK // EDWARD CRUTCHLEY // EFTYCHIA // FEBEN // FINAMORE // FIORUCCI // FRANCESCO SCOGNAMIGLIO // GCDS // GOLDEN GOOSE // GRAY MATTERS // GUIDI // HAN KJØBENHAVN // HELEN KIRKUM // HENRIK VIBSKOV // INCOTEX // JORDAN LUCA // KIDSUPER // KITON // LÆRKE ANDERSEN // LABRUM // MAISON MARTIN MARGIELA // MALO // MARCO RAMBALDI // MASSIMO ALBA // MAXIMILIAN DEVIS // MOTH AND RABBIT // MOTHER // MOUSSY VINTAGE // MUL_OLGA // NANA-NANA // PALMER/HARDING // PATAGONIA // PAULA CADEMARTORI // PHOTOGENICS&CO // RE/DONE // REIKE NEN // ROBYN LYNCH // ROKER // SAUL NASH // SHI.RT // SHUSHU/TONG // SOPHIE D'HOORE // STEFANO MORTARI // SWAROVSKI // SS DALEY // SWEET LIME JUICE // TAAK // TAGLIATORE // THOMAS NEUMAN // TOGA PULLA // TWOBC // UMA WANG // VAVA EYEWEAR // VIVIENNE WESTWOOD // YOHANIX // YUHAN WANG